Profile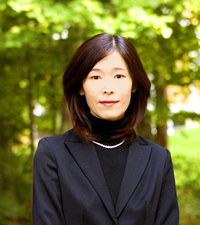 Dr. Ikuyo HASUO
Professor
Osaka School of International Public Policy (OSIPP)
Osaka University
1-31 Machikaneyama, Toyonaka, Osaka, 560-0043 Japan
E-mail: hasuo @ osipp.osaka-u.ac.jp
Dr. Ikuyo HASUO is currently a professor at the Osaka School of International Public Policy (OSIPP), specializing in the theory of international organizations and international public administrations, with a particular interest in the conceptual analysis of accountability of the United Nations and the UN system. She also serves as a member of the Japanese National Commission for UNESCO, engaged in the Cultural Activities Sub-committee, assisting the Japanese Government in the preparation of its policy and action proposals to be addressed to UNESCO. She has occupied the post of an Assistant Executive Director of Osaka University for the financial affairs.
Formerly, Dr. Hasuo occupied a number of international positions related to UN agencies, including UNESCO and the United Nations University. She served as visiting Professor and Japan Chair at the Institut D'Etudes Politiques de Paris (Sciences-Po) in the fall semester of 2011.
Biography
Dr. Hasuo obtained a Bachelor of Laws (LL.B.) from the Faculty of Law of Hitotsubashi University in Tokyo in 1986, and then a Master of Arts in Law and Diplomacy (MALD) from the Fletcher School of Law and Diplomacy, Tufts University in Boston in 1988 under a Rotary Scholarship. She received a Doctor of Laws (LL.D.) from the Graduate School of Law of Hitotsubashi University in 2007 with a thesis entitled "Managing the United Nations for Accountability". To conduct doctoral dissertation research, she was granted a Fulbright Scholarship (2006-07).
After having worked at the Industrial Bank of Japan (IBJ) in Tokyo (1988-90), Dr. Hasuo was nominated to be a successful candidate for the Young Probationers Programme (YPP) of the United Nations Educational, Scientific and Cultural Organization (UNESCO) where she subsequently served for ten years (1993-2002) as an international civil servant at its headquarters in Paris. She played a key role in UNESCO's reform process as a member of the Task Force for Management Reform as requested by Dr. Koichiro Matsuura, Director-General of UNESCO at that time. In 2005, again at the request of Dr. Matsuura, she returned to UNESCO as a senior consultant to review the process of legalization of the 2003 Convention for the Safeguarding of Intangible Cultural Heritage.
Prior to joining Osaka University, Dr. Hasuo served as a visiting scholar and a Fulbright fellow at Columbia University at its School of International and Public Affairs (SIPA) in N.Y. (2006-07). She was also involved in developing an accountability programme at the United Nations University at its Centre in Tokyo as a consultant (2007). She was also one of the founding members of the NPO/NGO Transparency - Japan, a national chapter of Transparency – International.
Social Activity
・Member, Steering Committee of Osaka University UNESCO Chair in Global Health & Education Social Design for Health (2018-Present)
・Member, The Japanese National Commission for UNESCO (2017-Present)
・Director, Japan Association of Global Governance (2014-2018)
・Special Councilor, Osaka Prefecture (2014-2015)
・Special Councilor, Osaka City (2014-2015)
・Director, NGO/NPO Transparency-Japan (2005-2014)
・Member, Study Group of the United Nations and Multilateral Diplomacy, Ministry of Foreign Affairs of Japan (2012-2013)
Membership in Professional Societies
Research Grants
Grants-in-Aid for Scientific Research, Scientific Research (C), sponsored by the Japan Society for the Promotion of Science (JSPS).
・Title: Clarification of Accountability Mechanisms of the UN Security Council
・Principal Investigator: Dr. Ikuyo HASUO
・Research Project Number: 18K01465
・Project Year: FY2018-FY2022
・Budget Amount: Total ¥4,030,000
Grants-in-Aid for Scientific Research, Scientific Research (C) , sponsored by the Japan Society for the Promotion of Science (JSPS) ,
・Title: Improving Accountability in the United Nations system and clarification of the managerial concept
・Principal Investigator: Dr. Ikuyo HASUO
・Research Project Number: 25380194
・Project Year: FY2013-FY2018
・Budget Amount: Total ¥4,940,000
Grants-in-Aid for Scientific Research, Scientific Research (C) , sponsored by the Japan Society for the Promotion of Science (JSPS) ,
・Title: Development of the Concept of Accountability of the United Nations
・Principal Investigator: Dr. Ikuyo HASUO
・Research Project Number: 21530148
・Project Year: FY2009-FY2011 (extended to FY2012)
・Budget Amount: Total ¥4,290,000